Mysilo
wheat silo
offers professional solutions in the most healthy way, you can store your product. Flat bottom silo, hopper bottom silos Trade, Economic Hopper Bottom Silo, you can store your wheats and Feed silos and farm type silo solution for a long time in a healthy way.
To be stored without deterioration of the wheat should be as low as to contain water of each of them. In addition, as long as the protection of wheat stored in silos of storage, this rate also bears serious consideration. a way to store grain quality long grain structures should also be examined. Wheat grains should be sufficiently mature, robust and should not damage, the water content of many 'must be also low. The temperature of the stacked products from 15 degrees, is less than 65% of relative humidity in the silo are general and scientific conditions.
After attention to these conditions, the long-term protection and storage silo if required ventilation and temperature should be very careful to follow. in the base part allow air homogeneous distribution of the filling product made through special ventilation ducts. According to the aid of high-speed centrifuges and silo diameter preferred smaller axial fans provide long-term and effective ventilation. If storage is preferred due to commercial conical silos and axial ventilation tube can be sufficient efficiency in these stores.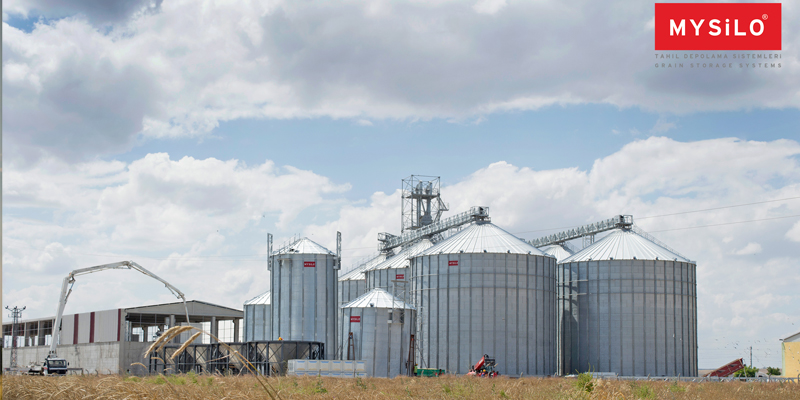 Silo filling made of Ni deposited on the product thanks to the exhaust fan on the roof of the moisture and warm air is rapidly discharged from the chimney. Dacromet coated EN DIN 933 bolts 500 is 10.9 quality. CE standards appropriate solid wall sheets 600g / m2 coated galvanized. HDPE sealing and strips are also used to provide superior sealing. Corn Silo produced in accordance with the Occupational Health and Safety Standard safety ASAE S412 are produced according to American standards.
Mounting the corn silo varying structures, according to their diameter size and in general at a convenient and fast. as soon as the installation is done by experts in the field of installation personnel. Your products in the long-term confidence in Mysilo corn silo and maintained in a healthy way.